Welcome to the Diagnostic Radiology Residency Program at Cooper University Health Care. We are a four-year advanced diagnostic radiology residency that is accredited through the ACGME. We currently accept five residents per year through the ERAS match program.
We pride ourselves in educating and training clinically-oriented diagnostic radiologists who are comfortable practicing in both academic and community settings. We emphasize a team approach and pride ourselves in the camaraderie between the faculty and residents within our reading room.
If you would like to get a well-rounded education at a busy but friendly work environment, this is the place for you.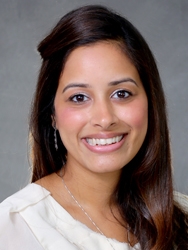 Sabina Amin, MD
Diagnostic Radiology Residency Program Director
ESIR Program Director, Cooper University Health Care
Assistant Professor of Radiology, Cooper Medical School of Rowan University
Welcome From Our Program Director
A Day in the Life of a Cooper Radiology Resident (2020)