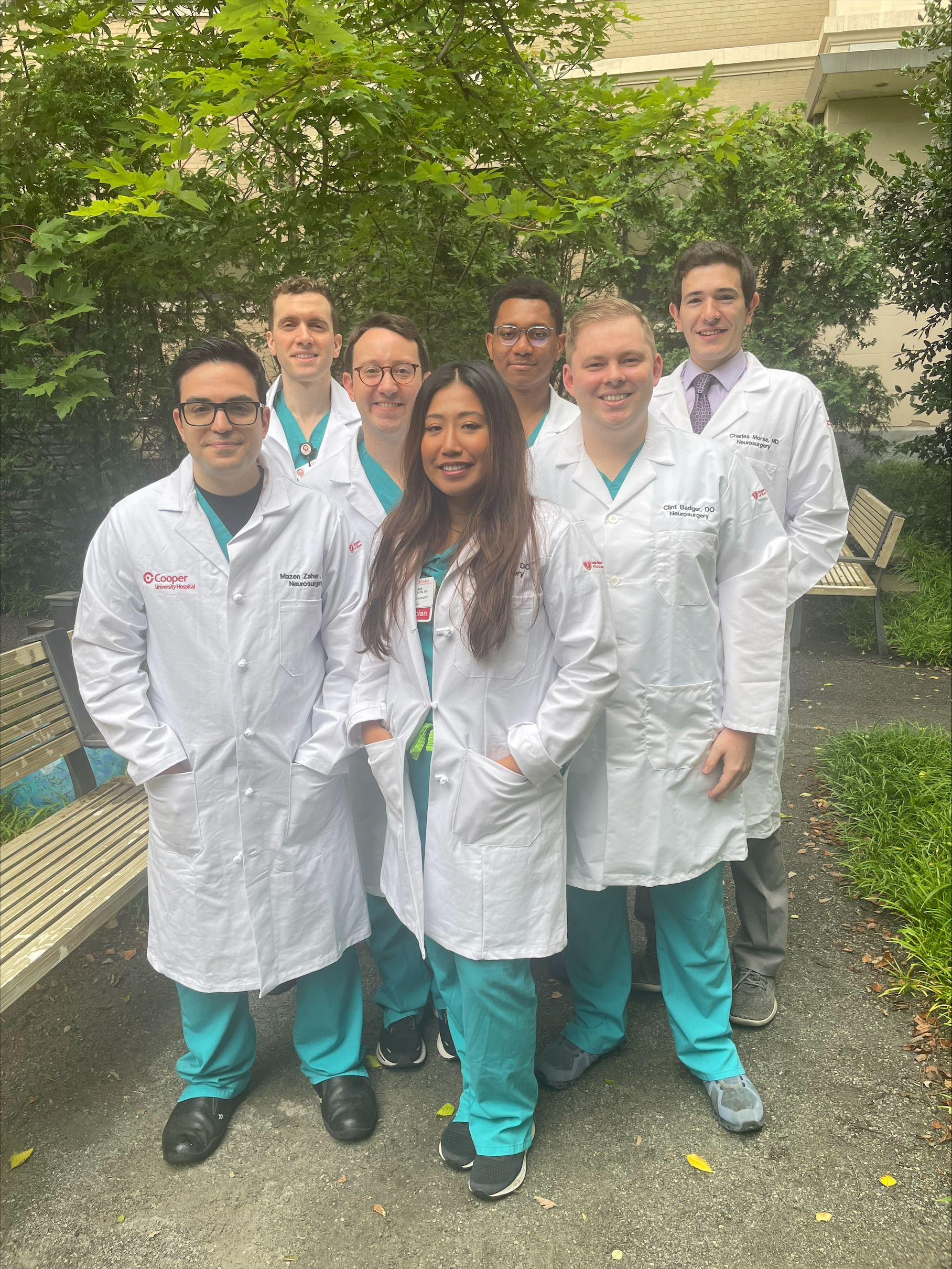 The Neurosurgery Residency is an ACGME-accredited program clinically based at Cooper University Hospital.
Neurosurgery is a medical discipline and surgical specialty that provides care for adult and pediatric patients in the treatment of pain or pathological processes that may modify the function or activity of the central nervous system (e.g., brain, hypophysis, and spinal cord), the peripheral nervous system, (e.g., cranial, spinal, and peripheral nerves), the autonomic nervous system, and the supporting structures of these systems (e.g., meninges, skull and skull base, and vertebral column) and their vascular supply (e.g., intracranial, extracranial, and spinal vasculature).
Treatment encompasses non-operative management (including prevention, diagnosis, image interpretation, and neurocritical intensive care and rehabilitation) and operative management (including image interpretation, endovascular surgery, functional and restorative surgery, stereotactic radiosurgery, and spinal fusion and instrumentation).
Why Cooper
Cooper University Health Care is the leading academic health system in New Jersey and the only hospital in the Delaware Valley that provides trauma care for both adults and children. Cooper includes New Jersey's only Level I Trauma Center, Joint commission certified Comprehensive Stroke Center, Children's Regional Hospital, our Level II Pediatric Trauma Center, MD Anderson Cancer Center at Cooper, four urgent care centers, and more than 100 outpatient offices throughout South Jersey and Pennsylvania. Cooper has more than 8,500 employees, including 800+ physicians practicing in more than 75 specialties. Hospitals throughout the region send the most complex and critically ill and injured to Cooper for treatment by our highly skilled experts. As an academic medical center, Cooper offers patients quality health care from primary care to specialty care in one or more of its premier Institutes and Centers of Excellence. In annual surveys assessing the region's medical care, Cooper's physicians are frequently recognized as "Top Doctors" in their fields. These physicians are the teachers with whom you will interact during your educational experience.