The Infectious Diseases Fellowship at Cooper University Health Care is an ACGME-accredited two-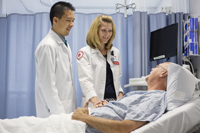 year comprehensive clinical program that offers two positions per year. The program has an extremely diverse patient population, which allows fellows to see a wide range of infectious diseases in both the hospital and outpatient settings.
There are four inpatient ID services, two teaching, and two non-teaching. Each teaching service has one attending and one fellow. (In the beginning of the academic year, fellows are temporarily paired). Other members of the consultation services may include PharmDs, internal medicine or podiatry residents, critical care residents, and medical or pharmacy students. The other two services are attending only or with a nurse practitioner. The goal of having the non-teaching service is to preserve teaching time and duty hours for the fellows.
One half-day per week is devoted to a continuity clinic where fellows see general ID or HIV patients. During their ambulatory weeks, fellows also attend two public health clinics where they gain experience in treating tuberculosis and sexually transmitted infections, and on ambulatory rotation, they have the option of seeing outpatients for travel-related evaluations and Hepatitis C management.
Infectious diseases fellows spend one month in the PGY-4 year in the microbiology lab. During the PGY-5 year, fellows spend one month at the Hospital of the University of Pennsylvania (HUP) for solid-organ transplant experience (may vary during Covid-19).
The Cooper University Hospital Antimicrobial Stewardship Program has received a designation as Gold Status from the NJ Department of Health and also is designated as an Infectious Disease Society of America (IDSA) Antimicrobial Stewardship Center of Excellence for 2020-2023. Our fellows rotate on antimicrobial stewardship rotation in order to learn the concepts and techniques necessary to build and/or run a quality stewardship program.
Our fellows also complete the Johns Hopkins Infection Prevention Course online and have one week per year of dedicated infection prevention rotation.
All fellows are required to pursue a scholarly project, which can be a lab-based or clinical project, as well as a practice-improvement or quality-improvement project. The ID Scholars course was developed to provide our fellows with a formal course with instruction in research methods and basic statistical concepts. This course is two weeks in the fall of the first year, and participants have dedicated time to meet research mentors and draft a research protocol during the course. There is a one week refresher for second year fellows which was added in 2020 at the request of the fellows.
Fellows meetings occur once every six weeks (approximately) and give the fellows an opportunity to provide real time feedback to the program director in an informal fashion.
Fellows' Rotation Schedule
PGY-4
28 weeks inpatient services
4 weeks microbiology lab
4 weeks ambulatory
6 weeks research
4 weeks ASP/IP
4 weeks vacation
2 weeks ID Scholars Course
PGY-5
20 weeks inpatient services 
4 weeks transplant
7 weeks ambulatory
8 weeks research
8 weeks ASP/IP
2 weeks elective
4 weeks vacation
1 week ID Scholars Course
Tour with Cooper | Infectious Disease