Thank you for your interest in the Anesthesiology Residency Program at Cooper Medical School of Rowan University (CMSRU)/Cooper University Health Care (CUHC). The Anesthesia Residency Program, fully accredited by the ACGME, started in 2004 and is led by our Program Director, Dr. Irwin Gratz, and our Associate Program Director, Dr. Keyur Trivedi. Our residents enjoy both excellent clinical training and formal didactic instruction. We are proud of our high board pass rate and 100 percent match rate.
As the largest academic medical center in southern New Jersey, our residents are exposed to myriad of clinical anesthesia experiences, including those for Trauma Surgery, Cardiac Surgery, Pediatric Surgery, Obstetric/Gynecological Surgery, Pain Management, Vascular Surgery, Thoracic Surgery, Robotic Surgery, Neurosurgery, Ambulatory Surgery, Orthopedic Surgery, Critical Care, and many others. Our clinical efforts are led by Dr. Edward Deal, who serves as our Vice Chair of Clinical Affairs. The diversity and acuity of clinical presentations and clinical needs of our patients provides a wonderful training environment for our residents. Residents are first oriented to the operating room through a deliberate immersion process that involves being paired with a senior resident for two months. Residents gradually gain clinical autonomy in a structured and supervised fashion.
Our formal didactic educational program at Cooper is excellent. CA-1 Residents benefit from an extensive introductory lecture series, especially designed for them. Regularly occurring formal didactic sessions continue throughout the training experience, featuring Case Management, Morbidity and Mortality, Journal Club, Mock Oral Reviews, Interdisciplinary Lectures, and Grand Rounds. Our educational efforts are strengthened by our MOCA-certified SIM Lab, where residents have the benefit of working with Anesthesia Faculty members that are nationally recognized SIM Lab experts. In fact, our Vice Chair of Faculty Affairs, Dr. Amanda Burden, is the Director of Simulation Education for both CUHC and CMSRU.
From an academic perspective, our department offers many opportunities. We are a department in the Cooper Medical School of Rowan University, and our entire faculty has academic appointments at the medical school. Our department is completely integrated into the fabric of the school, with our faculty participating in Medical Student Education through the Scholars Workshop Program, the Facilitated Learning Group Program, the College Advisory System, the general Mentorship Program, the Capstone Project Mentoring Program, the SIM Lab, the Graduate Medical Education Committee, and through medical student rotations through our department. Our departmental Vice Chair of Administrative Affairs, Dr. Erin Pukenas, is the Assistant Dean of Student Affairs at CMSRU. Our research efforts are led by Dr. Ludmil Mitrev, who serves as our Division Head of Research, and afford an opportunity for student and resident engagement in scientific inquiry. The department employs a full time Research Director and two full time Research Coordinators. Several of our faculty are ABA Board Examiners, and many hold important positions within national societies of anesthesiology.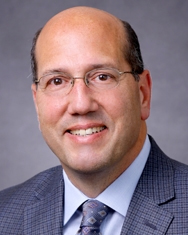 We are very pleased that you are considering exploring the opportunity of joining our Residency Program. We feel that our residency experience is very strong from clinical, educational, and academic perspectives. Best of luck!
Alann R. Solina, MD
Professor and Chairman, Department of Anesthesiology, CMSRU
Chief of Anesthesia and Medical Director of Operating Room Services, CUHC