Welcome to Cooper's Emergency Medicine Residency Program!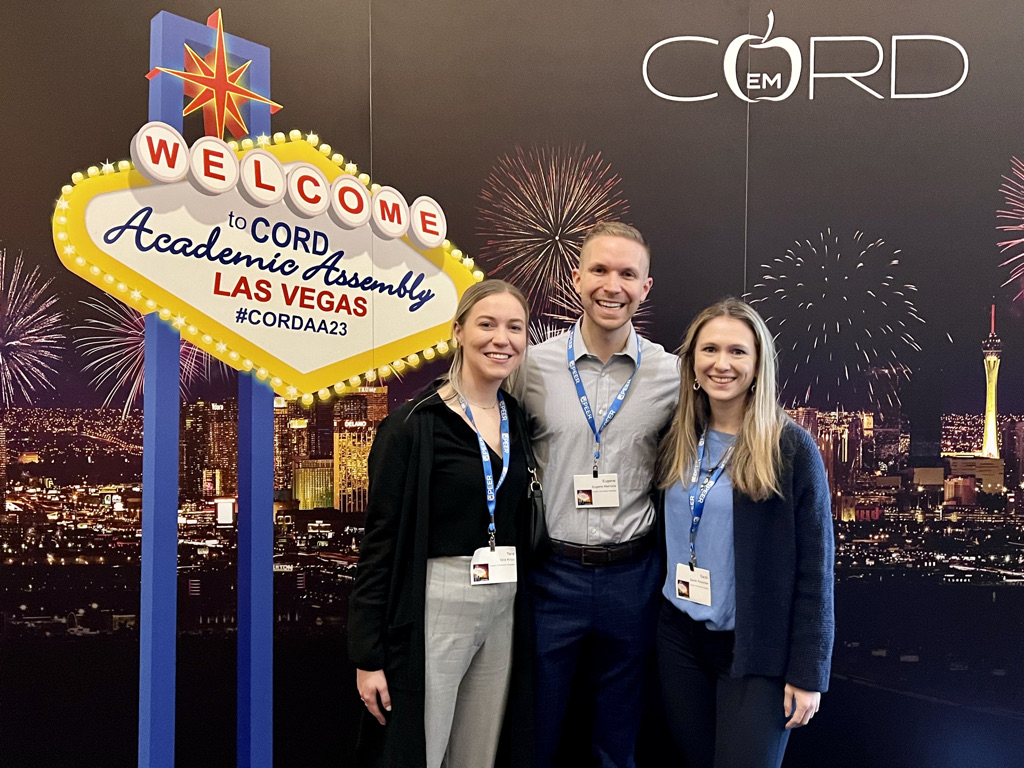 We are excited you are considering Cooper and can't wait to give you just a glimpse into why we love it so much! Cooper toes the line perfectly between being a supportive family-style environment with an emphasis on teaching, and rigorous training in emergency medicine with both a high acuity and diverse patient population.
Located in Camden, NJ, our patient population is quite diverse, drawing from both the inner city of Camden – which houses many patients with poor access to healthcare suffering from substance use, trauma, and homelessness – as well as New Jersey suburbs. We see high acuity patients and are very lucky to have an abundance of procedural opportunities. From day one of intern year, our residents manage complex patients and learn to perform procedures such as intubations, central lines, and fracture reductions.
Camden is just 10 minutes across the river from Philadelphia, PA, so about ⅔ of our residents live in Philadelphia while the others live in the Jersey suburbs. In Philly, residents enjoy access to an abundance of restaurants, bars, museums, and parks - where we frequently grab a drink after shift with attendings and residents together. New Jersey provides a family friendly option to have larger living spaces in the suburbs.
Although the ED itself has more of a county feel than some academic centers, it still has the support of a wide variety of highly skilled 24-hour consultant services. Cooper Hospital is a leader across multiple specialties in South Jersey, as exemplified by MD Anderson Cancer Center at Cooper, Cooper Heart Institute, Cooper Bone and Joint Institute, Cooper Neurological Institute, Center for Critical Care Services, Center for Urgent and Emergent Services, and the Center for Trauma Services, which draws in a wide variety of medically complex patients and abundant research opportunities. Cooper is South Jersey's only Level I Trauma Center and a busy Level II Pediatric Trauma Center and the emergency department residents respond to trauma airways and spend time staffing the trauma bay. In Cooper's pediatric emergency department, we care for infants and children under the guidance of fellowship-trained pediatric emergency physicians.
At Cooper we have a family-feel on shift; all EM residents and attendings sit together in an area we call "the bubble," so we frequently discuss cases and collaborate with the whole group when there is a challenging presentation. There is a strong emphasis on teaching, and our faculty are nationally recognized as educators and boast expertise in critical care, EMS and disaster medicine, administration and law, ultrasound, toxicology, medical education, geriatrics and research. Residents interested in teaching have many opportunities to engage with the medical students taking presentations on clinical shifts and running procedure labs and SIM cases. We also have multiple collaborative workspaces for residents in our newly renovated EM departmental space and state-of-the-art simulation center at our medical school, Cooper Medical School of Rowan University (CMSRU).
Emergency medicine physicians have a strong presence in hospital leadership, and the emergency department has a strong standing within the hospital system. Our Department Chair Dr. Michael E. Chansky (whom we affectionately call "Boss") works frequently in the emergency department despite his numerous administrative responsibilities, including but not limited to his role on Cooper's Board of Trustees. Cooper's Co-President/CEO, Anthony "Mazz" Mazzarelli, is an emergency medicine trained physician who still works clinically alongside us in the department and lectures during conferences.
While we work hard in the emergency department, we also enjoy our free time, and have a system in place to accommodate residents' schedule requests so they can attend life events and other important gatherings. We also frequently spend time outside the hospital with each other and with our attendings. Some of our favorite activities include going to Philadelphia sporting events (go Eagles!), our annual residency retreat at the Jersey shore, Philadelphia rooftop nights, karaoke, Byrne's annual game night, backyard barbecues, department wide holiday parties, dog park dates and much more. With Camden's close proximity to New York City, Washington DC, the Jersey Shore and the Pocono Mountains, there are endless ways to spend time off.
We understand how stressful interview season can be, and we are happy to answer more individualized questions. Please feel free to email any of us. We look forward to meeting you virtually along the interview trail and can't wait to see which 13 of you will join our Cooper family next year!
Warmly,
Tara Knox, MD
Knox-tara@cooperhealth.edu
Geno Marrone, MD
Marrone-Eugene@cooperhealth.edu
Sarah Perelman, MD
Perelman-sarah@cooperhealth.edu