The Internal Medicine Residency Program at Cooper Medical School of Rowan University and Cooper University Hospital is dedicated to facilitating the development of well-rounded physicians and ensuring that each individual realizes their potential. Our Program supports the mission of Cooper University Health Care: To serve, to heal, and to educate.
To Heal: Our mission is to provide excellent, equitable care to all patients that seek care at our institution. In line with the Quadruple Aim, our ultimate goal is to improve outcomes for all patients, provide high value care, maximize patient satisfaction, and improve resident and health care worker well-being. Our goal is to train residents who are prepared for the future of team-based, patient-centered medicine.
To Serve: We recognize that our patients do not exist in a vacuum, and integral to our mission is serving our community of Camden, New Jersey. Thus, our mission is to improve the health of the Camden community as a whole. We do this by training physicians-advocates who excel in providing culturally competent and trauma-informed care.
To Educate: Our mission is to train residents to become skilled in scholarly work, and to develop a growth mindset as they work to improve their individual performance. Our mission is to train educators of the next generation, so that our residents can excel at medical education. Ultimately, our goal is to support our residents in any career path of their choosing, which includes our primary care program, preparation for fellowship, or a career in general internal medicine.
We realize that residents are mature, self-directed learners and we actively engage them in the development and implementation of our unique curriculum. Our curriculum utilizes innovative pedagogical techniques that emphasize active learning during our many diverse conferences, clinical experiences, and simulation scenarios. Although we make it a priority to provide an exceptional didactic experience, we realize that medicine must be learned at the bedside. The diversity of patients and the scope of pathophysiological disease processes that residents encounter on a daily basis are impressive. Our residency provides exceptional experiential learning in a wide variety of clinical environments where residents apply evidence-based medicine under the tutelage of world-renowned faculty. We pride ourselves on not only creating knowledgeable physicians, but also on instructing our residents on how to think critically and act as professionals. Here at Cooper we emphasize the importance of bedside diagnosis by facilitating the development of strong analytical clinical reasoning and physical examination skills. We develop within our residents the excellent communication skills needed to provide compassionate patient care, and to work successfully within an interdisciplinary team. Not only will you learn about the social determinates of health, but you will learn skills to promote the health and wellbeing of our patients.
What makes Cooper a great place to train?
Cooper University Health Care (CUHC) is the only academic tertiary care center located in southern New Jersey. As such, other hospitals in the region refer their most complex patients to our exceptional full-time faculty in all subspecialties of Internal Medicine. We have the privilege to treat diverse urban, suburban, and rural populations from different socioeconomic and cultural backgrounds.
Our clinical campus is renowned for its world class ICU, Level 1 Trauma Center, cardiac center of excellence, and its Neurointerventional Suite in addition to its exceptional inpatient and ambulatory care. MD Anderson Cancer Center at Cooper has revolutionized how we care for patients afflicted with neoplastic disease. In August 2012, we welcomed the inaugural class to Cooper Medical School of Rowan University (CMSRU), a four year allopathic medical school that is committed to training the physicians of tomorrow in an innovative and supportive manner. Since then, the Internal Medicine Residency Program has worked closely with the students as teachers and colleagues, and celebrated the graduations of multiple classes.
Residents at Cooper benefit from a fully integrated, electronic medical records system, EPIC, that has led to safer and more efficient care in all clinical environments. In addition, all scheduling information and audio-video recordings of our conference series are available electronically to residents so that they may access the material remotely via smartphone or computer at their convenience.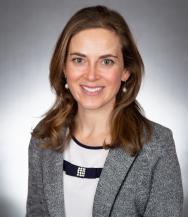 The Internal Medicine Residency Program at Cooper is firmly committed to maximizing our residents' quality of life and the 4+2 structure allows for protection from fatigue and more time to enjoy the things that matter most to residents outside of medicine. Cooper's location offers something for everyone. We are minutes away from Philadelphia, and an easy commute using readily accessible public transportation. If you prefer a suburban environment, many are a short drive away.
If you are interested in a cutting edge program with a unique approach to providing exceptional clinical training and maintaining an excellent quality of life, Cooper is the place for you. I invite you to take the time to explore our program.
Rachel S. Nash, MD, FACP
Program Director, Internal Medicine Residency Program