Over the course of training, fellows will gain their experience through the gastroenterology rotations or consult service, transplant hepatology service, and endoscopic procedure units.
Rotations usually change weekly, but certain rotations (such as Cooper GI service, endoscopy and research) may be grouped together in two- or three-week blocks. Rotations at Einstein Medical Center are 4-week blocks. Cooper GI Call is alternated between the call fellow and the service fellow. Call fellow will be responsible for Monday, Wednesday, Friday, Saturday, and Sunday call. Service fellow covers Tuesday and Thursday call. There is no call while on procedures, elective/research, or Einstein.
Cooper University Hospital has 34 residency and fellowship programs.  The fellows are immersed in this rich environment, and have ample opportunity to interact and educate their peers through formal and informal teaching sessions. Additionally, internal medicine residents rotate on the consultation service, which provides opportunities for mentoring and educational sessions. Fellows will also participate in the education of Cooper Medical School of Rowan University students who rotate on the GI service.
Our institution houses state-of-the-art endoscopic simulator which helps prepare our trainees for their endoscopic experience.  The endoscopy simulator improves hand-eye coordination and allows for practice in endoscopic tissue sampling and hemostasis.  Headed by Dr. Cristina Capanescu, fellows are supervised as they complete an endoscopic simulation curriculum which serves to develop proficiency in real life endoscopic procedures. Additional endoscopic simulation is available to prepare fellows for ERCP.
The world of medical education is ever changing.  As part of this change, the Accreditation Council for Graduate Medical Education (ACGME) has enacted the New Accreditation System to improve the mean for which medical trainees are evaluated.  To stay ahead of the curve, our institution has adopted the new accreditation system that utilizes a spectrum of evaluation tools, centered on Gastroenterology and Liver Diseases.  We utilize the mini-CEX format in addition to immediate feedback to evaluate endoscopic skills,.  Additionally, at the completion of each week, our fellows receive formative feedback and a learning objective by their subsequent attending.  Finally, at the end of each six-month period, trainees meet with our program director for a semi-annual review to discuss their progress and learning objectives  as well as any improvements that may improve  the program.
Career Development
At Cooper University Hospital's Gastroenterology fellowship program, we make our graduates' career plans the highest priority.  Whether your goals are academic medicine, private practice, or an additional year of subspecialty training, we will see to it that your goals are met.
First Choice of Practice: 100%
Advanced Fellow Match Rate: 100%
Board Pass Rate: 100% over the past 5 years
Mentorship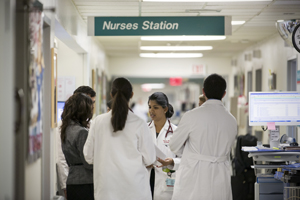 Upon entering the Cooper University Hospital Gastroenterology and Liver Diseases Fellowship Program, fellows are assigned a staff mentor.  Fellows meet with their mentors at least once during each 6-month period to discuss their training, research, and general well-being. Advisors are also available and willing to meet at times other than the semi-annual required meetings.