Didactic conferences are held regularly and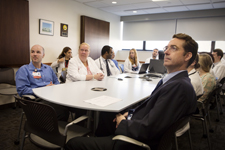 include the following:
Management Conference
Cases that pose a diagnostic dilemma, have unusual findings, or an exemplary teaching point are presented by fellows or attendings who then may also discuss a review of the literature and evidence supporting treatment.
Research Conference
Fellows present their research project progress to the faculty and other fellows every four to six months. This gives them the opportunity to seek additional help with any problems they may be having with their projects and to receive further constructive feedback.
Board Review
During these interactive sessions, ABIM-style questions are used to stimulate discussion of all pertinent aspects of a particular topic. This includes pathophysiology, epidemiology, clinical manifestations, diagnostic approach, prognosis, and evidence-based management of relevant disease processes. Questions are reviewed from multiple sources including the George Washington ID Course, Mayo Review, among others.
Journal Club
Journal Club is presented by fellows, ID pharmacists, and attendings (alternating). A recent article is reviewed and critically appraised.
Early Intervention Program Multidisciplinary Conference
In continuing its strong commitment to comprehensive HIV/AIDS care and research, the Division of Infectious Diseases features a premiere HIV Early Intervention Program (EIP). The Cooper EIP is 100 percent funded through Ryan White grants administered by the Health Resources & Services Administration (HRSA) and the New Jersey Department of Health, with research support provided from the National Institute of Health (NIH).
Once a week, the clinic staff, which includes administration, nurses, case managers, pharmacists, research staff, psychotherapists, nurse practitioners, fellows and attendings, meet to discuss patients, research and ancillary services. Fellows must be involved with practice improvement projects in the clinic and may present their data and recommendations during this conference. We also invite outside speakers to update us on HIV-related topics.
Summer Core and Didactic Lectures
Each July and August, basic core lectures are given three days per week. From September onward, didactics covering a broad range of topics are given once per week on Fridays. Topics are rotated and frequently updated.
Conference Schedule:
Weekly
Tuesday: 8 a.m.
ID Management Conference
Wednesday: 12 p.m.
Research Conference, Journal Club, or Fellows Meeting
Wednesday: 12 p.m. and Thursday: 8 a.m. (July and August)
Summer Core Lecture Series
Thursday: 12 p.m. 
Early Intervention Program Multidisciplinary Conference
Friday: 8 a.m.
Didactics and Board Review
Monthly
Monday: 12 p.m. (noon)
Antibiotic Stewardship
Wednesday: 8 a.m.
Infection Prevention