Arthroplasty and Adult  Reconstruction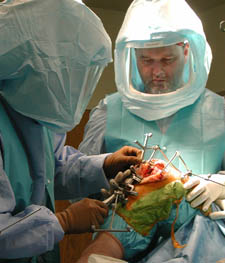 The arthroplasty and adult reconstruction service is run under the direction of full-time, fellowship trained arthroplasty surgeons. Residents will be exposed to preoperative decision making in the clinic and in the hospital as well as be involved in post-operative care and discharge planning. Exposure to all approaches to the hip, including the direct anterior approach, are provided. Residents will also learn how to perform robotic – assisted joint replacement.  Lastly, residents will become familiar with the logistics of performing same-day joint replacement.
Pediatric Orthopaedic Surgery
The residents rotate at Shriner's Hospital for Children and St. Christopher's Hospital for Children for two months each during the PGY-3 year. Residents will gain experience in a vast array of pediatric orthopaedic disorders including neurologic disease, acquired deformity, developmental deformity, metabolic disease and trauma. Spinal cord and brachial plexus clinics will be attended. Post-traumatic and developmental deformities such as leg length inequality and angular deformity will be treated with instruction in decision making and surgical intervention.
Our residents gain continued experience in pediatric trauma at Cooper. We are South Jersey's regional Level 2 pediatric trauma center.  All major pediatric trauma from southern New Jersey is brought to our trauma center and extensive pediatric trauma care is delivered through a multidisciplinary team approach.
Orthopaedic Trauma
Cooper University Hospital is the only Level 1 trauma center in southern New Jersey and treats approximately 2,800 trauma patients per year and has more than 56,000 emergency room visits. In addition, Cooper is the regional pediatric Level 2 trauma center. The trauma service is run by fellowship trained orthopaedic traumatologists. Our residents gain first exposure to orthopaedic trauma during the PGY-1 year, and subsequently rotate through the trauma service every year during their residency training. Each year, graduated autonomy is provided and the chief resident is responsible for running the service. Our residents become highly proficient in managing complex fractures, poly-traumas and pelvic fractures. We expect that our residents are ready to take trauma call at any Level 1 trauma center after their residency.
Orthopaedic Spine
As the region's level 1 trauma center, we are the destination referral center for complex spine trauma from all of southern New Jersey.  Our residents are exposed to an integrated spine service which includes orthopaedic and neurosurgery. Residents will be exposed to the operative and non-operative management of degenerative and traumatic spine disorders, metastatic disease and pediatric spine deformities.  
Hand Surgery
Residents are exposed to an integrated hand surgery service. Residents work with faculty from orthopaedic surgery and plastic surgery. Residents will experience a full spectrum of upper extremity pathology including compressive neuropathy, degenerative conditions and traumatic conditions. Training will include nerve repair, nerve transfer (brachial plexus), arthroscopy, upper extremity arthroplasty, complex fracture management, microvascular surgery, replantation, osteomyelitis and upper extremity tumor. Soft tissue reconstruction will include local wound care techniques, vacuum-assisted wound closure, skin grafting, rotation flaps, free flaps and contracture releases. During the hand rotation, residents can utilize the microsurgical lab equipped with a microscope and microsurgical instruments to hone their skills.
At the Shriner's Hospital for Children and St. Christopher's, residents will have the opportunity to work with world-renowned pediatric hand surgeons treating acquired and congenital hand problems.
Foot and Ankle
The foot and ankle service is run under the direction of a fellowship trained foot and ankle surgeon. Residents will spend time in the both the outpatient and inpatient setting, allowing exposure to a variety of foot and ankle disorders. Residents will be taught all manners of foot and ankle surgery including arthroscopy, minimally invasive techniques, tendon transfers, osteotomies, arthrodesis and fracture care.  Pediatric foot and ankle surgery at our external sites will provide experience in clubfoot deformity, including casting techniques, as well as other congenital and acquired disorders of the foot and ankle.
Sports/Shoulder Elbow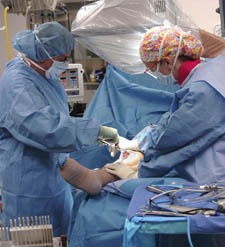 Residents will be exposed to an extensive sports medicine experience, which includes shoulder and elbow. Under the direction of fellowship trained orthopaedic sports and shoulder/elbow surgeons, residents will have a broad experience in the inpatient and outpatient setting. Our residents are taught both arthroscopic and open techniques to expand their skill sets. Complex fracture care is provided through both internal fixation techniques and arthroplasty techniques.
Orthopaedic Oncology
As the largest orthopaedic oncology practice in the Delaware valley and in partnership with MD Anderson at Cancer Center at Cooper, we provide our residents with the most comprehensive experience in the diagnosis and treatment of primary bone and soft tissue tumors as well as metastatic disease. The residents are exposed to a multidisciplinary team of fellowship trained orthopaedic oncologists, musculoskeletal radiologist and pathologist and sarcoma medical oncologists. The residents are involved in decision making both in the inpatient and outpatient setting. Due to the educational value of the program and volume, residents from external programs rotate through the service and help ensure education and service obligations are well balanced.
Research
The research program at Cooper provides ample opportunity for our residents to be involved in all facets of research. Clinical studies ranging from chart reviews to prospective studies are conducted. We have access to a large animal vivarium across the street, and numerous animal projects have been completed and many underway. We also conduct translational research, working with PhD's from Rowan Biomedical Engineering and Cooper Medical School Biomedical Sciences, to develop innovative ways of treating musculoskeletal injuries. Our research coordinator works to expedite completing regulatory requirements and help ensure projects are moving forward. Multiple research fellows are also available to help push research projects. Every Tuesday, from 11:30am – 1:00pm is a research meeting that residents attend on a rotating 6-week schedule.