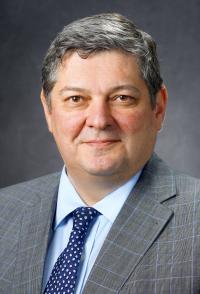 Dear Applicants,
Welcome to the Neurology Residency Program at Cooper University Hospital. We are delighted that you are interested in learning more about our hospital and its superb training opportunities. Cooper has a long history of excellence in education. Our residency graduates have been exceptionally well trained and are ready to take on any clinical or educational challenge.
Many of our faculty are national and international experts in several subspecialty areas, including cerebrovascular disease, endovascular / interventional neurology, epilepsy, multiple sclerosis, neuromuscular and movement disorders.
Our faculty represents a wonderful mix of seasoned experts at all stages in their careers. We recently expanded our services with additional clinicians who all share a real passion for teaching and provide broad clinical and educational experiences while enhancing delivery of care. We are committed to your development as a person, a physician and as a leader in the medical community. Our program's size and structure make it an ideal choice for learning the "art and science" of neurology. Our residents cover only one hospital under the supervision of committed faculty, which provides opportunity for much more individualized instruction than possible at other programs.
The program benefits further from our collaboration with Cooper Medical School of Rowan University, providing resident trainees the opportunity to share their knowledge with enthusiastic medical students. This collaboration encourages an environment conducive to team-focused patient care, safety, research and education. Our residents also benefit from neuroanatomy labs, pathology reviews, and SIM lab experiences made possible through our affiliation with CMSRU.
Please consider applying to our program if your goal is to be an excellent neurologist functioning at the highest level of knowledge and experience after residency. This is one of the most exciting times in your professional career and we look forward to helping you achieve your professional and personal goals, while having a little fun along the way.
Following graduation, there are opportunities to pursue fellowship training in several subspecialties including stroke and interventional neurology.  As our department continues to grow, fellowship training in other neurological subspecialties will become possible.
Tudor G. Jovin, MD
Chair and Chief, Department of Neurology
Director of Cooper Neurological Institute, Cooper
Professor of Neurology, CMSRU